Training Overview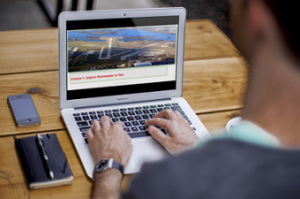 Training includes five 1-hour training courses developed for:
Training Course Topics
Introduction to Airport Stormwater provides the basics of the what, why, where, and how of airport stormwater management including the regulations, common terms, a description of stormwater permits, and the regulatory discharge limits associated with the permit(s).
Planning & Design of Stormwater Best Management Practices (BMPs) describes the processes used to determine what types of stormwater controls are needed and to select the right combination of BMPs from the available "toolbox." Five categories of BMPs are defined and examples are presented within each category.
Airport Stormwater Plans, Inspections, & Reporting discusses the three main types of stormwater plans airports are required to implement for permit compliance.
Managing Deicing Runoff presents specialized information regarding how aircraft and airfield deicing activities are conducted: why deicers are a concern in stormwater; BMPs available for minimizing, containing, and treating or disposing of deicing runoff; and planning strategies for developing a holistic deicing runoff management program.
Stormwater Sampling & Monitoring explains different types of sampling and monitoring activities, sample collection and handling practices, basics of using monitoring instrumentation, laboratory analyses, basic data review and interpretation, and reporting practices.