< Return to Best Management Practice Types
Spill Prevention and Response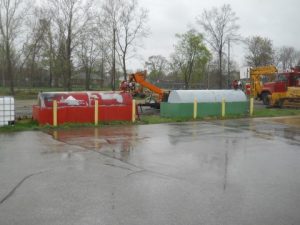 Spills of fuel and other hazardous substances are typically managed under an airport's stormwater pollution prevention plan (SWPPP). Spills of oil-containing substances including fuels are managed under the airport's spill prevention controls and countermeasures plan (SPCC) when the quantity stored is above the thresholds: combined 1,320 gallons above ground or 42,000 gallons below ground.
See ACRP Report 169: Clean Water Act Requirements for Airports for more information on the environmental regulations and permitting programs to which airports may be subject in their management of stormwater and other types of water resources. It covers governing federal programs; stormwater discharges associated with industrial activities, construction activities, and municipal separate storm sewer systems; process water or wastewater treatment discharges; industrial wastewater pretreatment discharges; and other relevant permit programs.
The SPCC or Spill Plan identifies the key BMPs utilized to prevent spills and control them in the event of occurrence. There are three main categories of BMPs that are utilized in spill planning and response:
Good Housekeeping BMPs establish operations that handle and store oil properly so a spill is prevented or easily contained. Good housekeeping practices include response plans, employee training, oil transfer procedures, storage plans, and integrity testing of oil storage containers.
Structural Practices are installed controls designed to contain a spill or remove oil from stormwater runoff. An oil/water separator is an example of a structural practice.
Construction Control Practices are procedures and structural practices that are incorporated into a construction project. Project-specific spill planning is a necessary component of a Construction SWPPP.
Other Spill Prevention BMP Resources
FAA Advisory Circular 150/5230-4B, Aircraft Fuel Storage, Handling, Training and Dispensing on Airports This report provides standards for fuel handling and storage along with training of personnel who are involved with fueling storage and operations.
ACRP Research Results Digest 21: Best Practices for General Aviation Aircraft Fuel-Tank Sampling  This digest summarizes the research and presents several best practices for general aviation fuel-tank sampling.
ACRP Synthesis of Airport Practice 10: Airport Sustainability Practices  This report covers a wide range of sustainable practices, including a small section on water in Chapter 6 and the barriers to implementation.
Note: All external links were functional at the time this website was published. If a link is broken, use the title of the document to search for an updated link.