< Return to Best Management Practice Types
Aircraft and Airfield Deicing Operations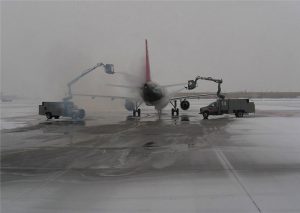 Aircraft and airfield deicing operations are unique and specific to aviation and require special attention when selecting management practices.  Stormwater associated with deicing operations is regulated through the airport's National Pollutant Discharge Elimination System (NPDES) industrial permit and may be subject to various best management practice (BMP) requirements as well as effluent limits.
Carefully configured systems of BMPs play a key role in maintaining compliance with permit requirements. Deicing BMPs include a broad range of techniques and controls, from selecting approved deicers and application techniques that reduce pollutant generation while maintaining safe aircraft operations, to collection, containment, and treatment systems designed specifically for deicing runoff.
The Regulatory Topic Summary on Deicing Stormwater and the Environmental Protection Agency (EPA) Summary of Airport Deicing Effluent Guidelines provide overviews of the regulations pertaining to management of stormwater impacted by deicing operations, along with pertinent information resources.
EPA Fact Sheet: Effluent Guidelines for Airport Deicing Discharges This document provides background information on deicing regulations including the EPA threshold on when the effluent limitations apply to NPDES industrial permits.
ACRP Resources
ACRP has developed an extensive library of resources for deicing stormwater BMPs.
ACRP Report 14: Deicing Planning Guidelines and Practices for Stormwater Management System  This standard reference for the industry discusses all aspects of airport deicing runoff management, including a process for developing a deicing runoff management system. An associated volume of fact sheets describe all commonly used deicing BMPs.
ACRP Web-Only Document 3: Formulations for Aircraft and Airfield Deicing and Anti-icing : Aquatic Toxicity and Biochemical Oxygen Demand This report provides information on the environmentally relevant characteristics of aircraft and airfield deicers. Tables are included with rigorously developed biochemical oxygen demand and chemical oxygen demand concentrations for all commonly used aircraft and airfield pavement deicers.
ACRP Report 134: Applying Whole Effluent Toxicity Testing to Aircraft Deicing Runoff This resource discusses special considerations to be taken in conducting whole effluent toxicity testing that may be required as part of NPDES permit compliance monitoring.
ACRP Report 99: Guidance for Treatment of Airport Stormwater Containing Deicers This resource provides descriptions of treatment BMPs for deicing runoff, along with guidance on how to determine which treatment alternative is likely to meet an airport's specific requirements. The associated volume of fact sheets presents detailed descriptions of each treatment technology to facilitate comparisons and decision making.
ACRP Research Report 72: Guidebook for Selecting Methods to Monitor Airport and Aircraft Deicing Materials, Second Edition This resource provides guidance on alternatives for monitoring deicers and their constituents in stormwater, as may be required for operational or compliance purposes.
ACRP Report 81: Winter Design Storm Factor Determination for Airports This resource describes methods for identifying appropriate design conditions for various structural BMPs. A decision support tool is included to assist the reader in selecting an appropriate method.
ACRP Synthesis of Airport Practice 6: Impact of Airport Pavement Deicing Products on Aircraft and Airfield Infrastructure This resource summarizes available information on the possible impacts on infrastructure and aircraft materials of airfield pavement deicers that have advantageous environmental characteristics.
FAA Guidance on Deicing Best Management Practices
The following FAA Advisory Circulars (ACs) provide specific FAA technical and regulatory guidance regarding deicing facilities and controls.
AC 150/5300-13, Airport Design provides standards and recommendations for the design of civil airports. Includes standards and requirements for the location and operation of deicing facilities.
AC 150/5300-14C, Design of Aircraft Deicing Facilities provides standards, specifications, and guidance for designing aircraft deicing facilities.
AC 150/5220-18A, Buildings for Storage and Maintenance of Airport Snow and Ice Control Equipment and Materials provides guidance for site selection and design of buildings used to store and maintain this equipment, approved materials, and personnel areas required to support the requirements under the airport operator's winter storm management plan.
AC 150/5200-30C, Airport Winter Safety and Operations provides guidance to help airport operators to develop a snow and ice control plan, conduct and report runway friction surveys, and establish snow removal and control procedures. This AC also provides guidance on aircraft and airfield deicing source controls and snow-clearing operations.
AC 120-60B, Ground Deicing and Anti-icing Program describes the standard process for obtaining approval of a ground deicing/anti-icing program.
AC 135-16, Ground Deicing and Anti-icing Training and Checking provides guidance regarding ground deicing and anti-icing training requirements for various categories of aircraft operators.
AC 120-58, Pilot Guide Large Aircraft Ground Deicing provides recommendations for the safe operation of large aircraft during icing conditions and guidelines for the development of adequate procedures for deicing large aircraft.
AC 120-89, Ground Deicing Using Infrared Energy  provides guidelines and recommendations for pilots, certificate holders, and operators of deicing facilities regarding the use of infrared technology for deicing aircraft.
A comprehensive library of FAA Advisory Circulars (ACs) is available online.
State Guidance
North Carolina Department of Environmental Quality Stormwater Design Manual  This manual has a special chapter dedicated to public airports with a section on deicing.
Note: All external links were functional at the time this website was published. If a link is broken, use the title of the document to search for an updated link.