Stormwater Plans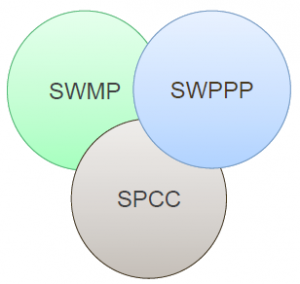 These resources address compliance with the Clean Water Act National Pollutant Discharge Elimination System (NPDES) requirements for stormwater discharges through Stormwater Pollution Prevention Plans (SWPPPs) and Stormwater Management Programs (SWMPs), as well as the Oil Pollution Act through Spill Prevention, Control, and Countermeasure (SPCC) Plans.
SWPPPs for Industrial Stormwater Discharges
Authorization for the discharge of stormwater associated with industrial activity is obtained through one of two types of NPDES permits: general [under the Multi-sector General Permit (MSGP)] or its state equivalent, and individual.
Industrial stormwater permits are generally issued for a 5-year period and may include some combination of numeric and/or non-numeric effluent limitations or benchmark concentrations for pollutants, monitoring requirements, and/or special conditions to meet water quality standards.
Under the MSGP, industrial stormwater dischargers are required to develop and implement a SWPPP that addresses specific permit requirements and identifies stormwater best management practices (BMPs) to reduce the potential for industrial pollutants to mix with stormwater.
The SWPPP should also address:
Implementation of a stormwater pollution prevention team including representatives from airport tenants who conduct regulated industrial activities;
Training of airport and tenant staff on stormwater pollution prevention measures;
Sampling of stormwater discharges;
Responding to excursions of "benchmark" or "action level" concentrations or effluent limitations; and
Routine inspections of airport operations, including during rain events, to determine if stormwater pollutants are visible.
An individual permit may include similar provisions but will be tailored to the site-specific conditions and specific environmental concerns.
View to the 2015 MSGP, Sections 1.5 (Permit Compliance), 3 (Inspections), 4 (Corrective Actions), 6 (Monitoring), and 7 (Reporting and Record Keeping). The Environmental Protection Agency (EPA) version is referenced since state versions vary.
SWPPPs for Construction Stormwater Discharges
Stormwater discharges associated with construction activity are regulated under the Construction General Permit (CGP) or its state equivalent. A CGP is required for all construction activity that results in land disturbance of equal to or greater than 1 acre.  Dischargers must prepare a SWPPP, which is a site-specific, written document that:
Identifies potential sources of stormwater pollution at the construction site;
Describes practices to reduce pollutants in stormwater discharges from the construction site; and
Identifies procedures the operator will implement to comply with the terms and conditions of a CGP.
View the EPA version of the CGP since state-level versions may vary.
SWMPs for Municipal Separate Storm Sewer System Stormwater Discharges
Under the NPDES Program, municipal separate storm sewer systems (MS4s) are required to develop, implement, and document an SWMP to reduce the contamination of stormwater runoff and prohibit illicit discharges.  The SWMP must:
Establish and implement BMPs that satisfy six minimum control measures;
Establish and implement a stormwater monitoring program;
Develop measurable goals for the program; and
Evaluate the effectiveness of the program.
View an overview of requirements to comply with stormwater discharges from municipal sources MS4s.
SPCC Plans
SPCC Plans are required under the federal Oil Pollution Control Act, and the requirements are specified in 40 CFR 112 ("SPCC Rule"). In order to determine if SPCC Rules apply to an individual site, an inventory of oil- and fat-containing vessels, which may include oil-filled equipment, must be made. The results are compared to the SPCC threshold. If the site exceeds the threshold, an SPCC Plan needs to be prepared and the site needs to comply with other aspects of the SPCC Rule.
View an overview of the SPCC regulation.
Note: All external links were functional at the time this website was published. If a link is broken, use the title of the document to search for an updated link.