Organizational Strategies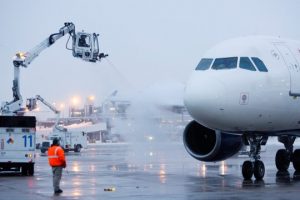 Managing Compliance
The requirement to comply with federal regulations is a given in the operation of a federally obligated airport, and specifically to the aviation/airside infrastructure, facilities, and activities of an airport. Compliance is mandatory—not optional—and the failure to comply can have serious consequences.
ACRP Report 156: Guidebook for Managing Compliance with Federal Regulations: An Integrated Approach and the stand-alone Regulation Compliance Management (RCM) Tool (auto-download Microsoft Excel file) provides guidance and tools for managing compliance with federal regulations. Federal regulations, as discussed in the guidebook and contained within the RCM Tool, include those statutes, regulations, executive orders, and circulars promulgated by Congress and federal departments, agencies, and offices for maintaining the safety, utility, efficiency, security, and compatibility of federally obligated airports.
The RCM Tool allows a user to customize and print out a quick reference guide of those regulations that apply to them with the information the user needs to know. A "master schedule" of requirements based on those applicable regulations can be developed for those requirements that are based on time or compliance dates. While this guidebook addresses compliance with federal requirements, airports may also need to comply with state and local requirements.
Multiple-Operator Scenarios
Air transportation facilities often have more than one operator who could discharge stormwater associated with industrial activity. Potential operators consist of the airport authority and airport tenants, including air passenger or cargo companies, fixed-base operators, and other parties who routinely perform industrial activities on airport property. There are a number of options, as well as specific requirements, for addressing multiple operators who discharge regulated stormwater at an airport.
Under the 2015 Multi-sector General Permit (MSGP), where an airport transportation facility has multiple industrial operators that discharge stormwater, each individual operator must obtain coverage under a National Pollutant Discharge Elimination System (NPDES) stormwater permit. However, the airport authority, in collaboration with its tenants, may choose to implement certain NPDES requirements on behalf of its tenants in order to increase efficiency and eliminate redundancy or duplication of effort.
For example, a Stormwater Pollution Prevention Plan (SWPPP) must be developed for all stormwater discharges associated with industrial activity before submission of any Notices of Intent to discharge. A good practice is the implementation of a single comprehensive SWPPP for all stormwater discharges associated at the airport.
This plan could be prepared collaboratively by the airport authority and tenants or tenants could prepare their own SWPPP, but the airport authority could request that tenants meet the minimum requirements of the overall SWPPP.  This helps to ensure that all entities are following the same standards for stormwater compliance.
Under the MSGP, all individual operators are responsible for stormwater compliance related to their operations and operators must ensure that their individual activities do not render another operator's stormwater controls ineffective.
For multiple operators at an airport, this means that each individual operator remains responsible for ensuring that all requirements of its own NPDES coverage are met regardless of whether a comprehensive SWPPP allocates the actual implementation of any of those responsibilities to another entity. That is, the failure of the entity allocated responsibility in the SWPPP to implement a permit requirement on behalf of other operators does not negate the other operators' ultimate liability.
Individual stormwater permits are tailored to the actual physical and operational characteristics at the permittee's facility, require a thorough analysis of site-specific conditions, and therefore contain specific requirements based on the airport's actual operations. Typically, an individual permit is issued to the airport authority and therefore the onus for compliance by tenants resides with the authority.  Permits can also be issued jointly to co-permittees—the airport authority and its tenants—but ultimately the authority is liable for compliance.  The responsibilities and compliance process related to individual permits are typical.
ACRP Legal Research Digest 25: Analysis of Federal Laws, Regulations, Case Law, and Survey of Existing Airport NPDES Permits Regarding Tenant–Operator Responsibilities Under NPDES and Stormwater Management BMPs Under Owner/Airport's Operating Permits summarizes state and federal stormwater regulations and jurisdictional authority for taking enforcement action against and imposing liability related to tenant noncompliance issues directly on airport owners. In addition, the digest provides guidance for airport operators in enforcing tenant compliance with stormwater permit requirements.
Note: All external links were functional at the time this website was published. If a link is broken, use the title of the document to search for an updated link.