< Return to BMP Planning & Design
Stormwater Hydrology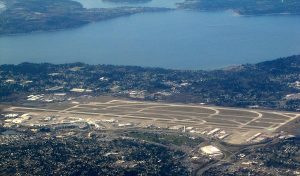 How stormwater moves across and through an airport landscape determines how and where pollutants are transported.
Basic Stormwater Hydrology
Informational resources to aid in understanding basic stormwater hydrology are provided in the following links.
Natural Resources Conservation Service of the US Department of Agriculture (NRCS-USDA) Introduction to Hydrology Study Guide provides background information on the basics of stormwater hydrology.
NRCS-USDA TR-55 Manual provides an in-depth review of the TR-55 model used to predict runoff peak flows and volumes from small watersheds.
Unified Facilities Criteria, Low Impact Development Guide (UFC 3-210-10) discusses TR-55 stormwater hydrology and how it relates to stormwater best management practices.
Drainage and Stormwater Design
FAA produces Advisory Circulars (AC) that set design standards to be followed on the airside of an airport. A link to an Advisory Circular on drainage and stormwater design is provided below.
FAA AC 150/5320-5D, Airport Drainage Design provides guidance on the design and construction of airport surface storm drainage and subsurface drainage systems for paved runways, taxiways, and aprons.
Note: All external links were functional at the time this website was published. If a link is broken, use the title of the document to search for an updated link.