< Return to Best Management Practice Types
Treatment Strategies for Impacted Stormwater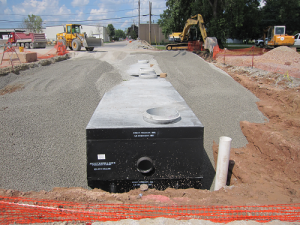 Stormwater treatment is a type of structural control and involves improvement of either physical water characteristics or water quality of stormwater.
Treatment objectives are best achieved by selecting the right best management practice (BMP) for the stated goals.  Goals may involve peak flow control, infiltration, temperature, attenuation, or removal of pollutants such as suspended sediments, deicers, nutrients, bacteria, or metals.  Some BMPs are effective for achieving multiple goals.
Several ACRP reports provide guidance on different treatment BMPs that are applicable to an airport context. For BMPs specific to deicing operations, see Aircraft and Airfield Deicing Operations. 
ACRP Resources
These ACRP resources are focused on stormwater quality and quantity from non-deicing runoff.
ACRP Report 53: A Handbook for Addressing Water Resource Issues Affecting Airport Development Planning  This resource identifies appropriate responses to a variety of water resource issues affecting airport planning and development. It also includes worksheets to inventory sites for stormwater purposes and fact sheets that provide useful information for planning projects to incorporate protection of natural water resources and the National Environmental Policy Act process.
ACRP Report 43: Guidebook for Improving Environmental Performance at Small Airports This reference identifies activities in which operators can be proactive in promoting environmental stewardship. Summary graphics provide information pertaining to the cost and savings as well as the necessary knowledge and amount of time to implement a particular activity.
ACRP Report 80: Guidebook for Incorporating Sustainability into Traditional Airport Projects  This resource provides insights on the implementation process of incorporating sustainable initiatives into airport projects.  Many of the case studies include stormwater and construction runoff measures.  A resource guide to measure total sustainability of a project, similar to the LEED rating scale for traditional building projects, is provided.
National Cooperative Highway Research Program Resources
NCHRP Report 767:  Measuring and Removing Dissolved Metals from Stormwater in Highly Urbanized Areas This resource provides prototype BMPs for the removal of dissolved metals in stormwater runoff. Three conceptual configurations are presented in detail: two vault system configurations for urban and rural settings, and an inlet scupper with media for bridge deck drainage systems. The report also includes standard protocols to accurately measure the levels of dissolved metals in stormwater.
NCHRP Report 792: Long-Term Performance and Life-Cycle Costs of Stormwater Best Management Practices This resource provides tools to help optimize the BMP portion of a stormwater program. BMP performance and cost are key data needed to maximize program performance.
State Resources
These resources offer guidance developed at the state and national levels on stormwater treatment practices that are compatible with airport environments.
Washington State Aviation Stormwater Design Manual  This design manual is for stormwater facilities on and near airports.  BMPs are identified that will work within the constraints of the airport.
Florida Statewide Airport Stormwater Best Management Practices Manual This manual sets forth the procedures and criteria for design of individual airside stormwater facilities or master planning airport airside stormwater management systems.
North Carolina Department of Environmental Quality Stormwater Design Manual This manual contains a special chapter dedicated to public airports with special emphasis on wildlife hazard and pollutants of concern specific to airports.
National Resources
Environmental Protection Agency National Menu of BMPs for Stormwater This website contains BMPs categorized according to the six tenants of the municipal separate storm sewer system permit. The categories most applicable to airports include Construction, Post-construction and Pollution Prevention.
National Pollution Discharge Elimination System (NPDES). This website provides a wide range of technical and planning resources related to the NPDES program.
International Stormwater BMP Database This database provides a resource to locate structural BMP performance data and studies. It is supported by a coalition of partners and provides a wide variety of information. Guidance is also provided for monitoring of BMPs.
Note: All external links were functional at the time this website was published. If a link is broken, use the title of the document to search for an updated link.