8.0 Communications
8.1 What Is Included?
Efforts to reduce greenhouse gas (GHG) emissions from the transportation sector can involve many activities and many parties. For a successful effort, communication of planned and ongoing activities among participants becomes very important.
Communications and partnerships are intertwined. The elements of communications listed below highlight the need for partnership building and the value of established partnerships (see Section 7.0). It is unlikely that a State department of transportation (DOT) will be undertaking GHG reduction on its own. Having good working relationships with other agencies and the public will be critical to maintaining a good partnership and making progress in the overall effort.
Elements of communications regarding GHG reduction efforts include
Internal communications within the State DOT to inform and coordinate activities and to keep all affected functional units working in an integrated, unified manner.
External communications with other State agencies, local and regional agencies, and the Governor's Office to work together in a coordinated manner on overall climate change strategies, such as in a climate action plan; work collaboratively on GHG reduction strategies that involve the mission of more than one agency; and report status and progress to State-level executives.
External communications with the public to gain and maintain the public's support and understanding of GHG reduction efforts. Many of the strategies to reduce GHGs from the transportation sector will have a highly visible component that may affect the public's transportation experience and choices. The public must be informed about why these activities are being undertaken and what may be expected as the effort continues.
8.2 Why Consider Communications in GHG Reduction Efforts?
A comprehensive transportation GHG reduction program that is systemwide has many moving pieces. The potential for work at cross purposes is high, unless a systematic, well-thought-out plan is developed to keep this from happening. Communication is critical so all involved know what others are doing and what progress is being made.
Some functional units within a State DOT may have a mission that historically did not involve working with other functional units. However, with GHG reduction efforts, it is much more likely that they will have to work together. It also is important to make sure that functional units and individuals that do frequently work together and may have somewhat overlapping missions do not duplicate work or otherwise waste time and effort. Finally, with the potential to have most, if not all, functional units in a State DOT involved, frequent and regular communication channels should be established, as discussed in Section 19.0, Putting It All Together.
If a State DOT is involved in a statewide GHG reduction effort involving all economic sectors, then many agencies will be involved, some of which may have had little experience working with the State DOT. In statewide efforts, the lead agency will typically be the air quality or energy agency or Governor's office rather than the DOT. The lead agency should establish frequent and regular communications through meetings and status reports with all the involved agencies. There may be tiers of communication, with the executives of the agencies communicating and meeting on one schedule while the staff communicate more frequently to ensure the needed work gets done. At all levels, a coordinated and unified approach is important. Good communications will help ensure that coordination is effective.
Once GHG reduction strategies are selected, the implementation of those strategies will likely fall to a subset of agencies within the entire statewide effort. For successful development and implementation of any selected strategies, the involved executives will need to keep track of progress, and the staff will need to work together to handle the steps and details of development and implementation.
Selected GHG reduction strategies could be very visible to the public and, unless properly handled, could be misunderstood or negatively received by the public. Selected strategies should be understandable by the public and could include transit strategies, intelligent transportation system (ITS) strategies, Complete Streets, tolling strategies, etc. As the selected strategies proceed toward implementation, it will become very important to keep the public and elected officials informed of progress and positive and negative developments. Frequent and open communication and discussions with the public and elected officials will be necessary to foster support and avoid difficulties.
8.3 Level of Effort
Effective communications during a department-wide effort to reduce GHG emissions from the transportation sector will require a sustained and ongoing effort. Communication is of overarching, fundamental importance to the State DOT as it works to employ measures and strategies to reduce GHG emissions from the transportation sector. Establishing and maintaining good communications may be the most difficult and time-consuming element that a State DOT will face in trying to address GHG and climate change.
8.4 Who—Roles and Responsibilities

Potential roles in communication regarding GHG issues include the following:
Executive—Sending a clear signal to staff and the public that GHG emission reductions are important and part of the agency's mission.
Communications Staff (typically attached to the Executive or Administrative area)—Preparing written communication plans for external parties; facilitating communications and outreach to external parties, particularly elected officials and nongovernmental entities; and assisting with internal communications and communications with involved governmental agencies, as needed.
Lead State DOT Functional Unit for GHG Reduction Efforts—Preparing written communications plans for internal State DOT efforts and for external interagency parties; working closely with Communications staff to ensure outcomes of GHG work are accurately and appropriately reported to the public; and keeping Communications staff apprised of policy and technical work performed by DOT staff and external partners.
All State DOT Staff—Participating as required to learn about GHG reduction efforts in the State and State DOT and, depending on the functional unit, actively participating in strategy evaluation, selection, development, and implementation.
8.5 Communications Plan
It may be helpful to develop a communications plan to map out the involved parties, frequency, topics, etc. that will be addressed for each of the three levels of communications described above—internal, external with stakeholders, and external with the public.
8.5.1 Internal Communications
A communications plan for internal communications within a State DOT could include
A regular, frequent schedule of meetings to keep involved functional units informed of ongoing efforts.
A regular, less frequent briefing for State DOT executives so they can keep the Executive branch informed, as needed, and answer questions from the Executive branch.
A listing of involved functional units (with identified staff and a listserv) so all know who is involved with the effort and what activities within the overall effort the various functional units are leading, which units have a role to play, what progress is being made, and where help may be needed.
8.5.2 External Communications with Stakeholders
An agency other than a State DOT will likely be in charge of external communications with other agencies on a statewide, all-sector, GHG reduction effort. It is good practice for the lead agency to develop a communication plan with clear expectations of all the member agencies. If a communication plan is not developed, the State DOT may want to discuss the benefits of clear and consistent communications with the lead agency. For identified GHG reduction strategies where the State DOT has a lead role, an external communications plan could include
A listing of involved implementing agencies (with identified staff) so it will be clear to all what role each agency has in the strategy development and implementation.
A listing (perhaps with a listserv) of affected entities that may have a role in the strategy's development and implementation or would be affected by that strategy. Such affected entities could include metropolitan planning organizations (MPOs); local and regional agencies; nongovernmental organizations (NGOs); associations for trade, manufacturing, or transportation groups; community and environmental groups; academia, etc.
A determination of how the affected entities will be incorporated into the effort. This could be meetings with all the affected entities or with various subgroups independently, depending on the strategy and an assessment of what would be best to promote the strategy's overall success.
Based on stakeholder preference, a schedule of regular meetings to keep the affected entities informed and to seek ideas or assistance for successful development and implementation of the selected strategy.
For the involved agencies, a generic agenda (with time and location) that could be modified as needed for each individual meeting to keep each other informed on the progress of their respective tasks to develop and implement the selected strategy.
Communications Example: Maryland DOT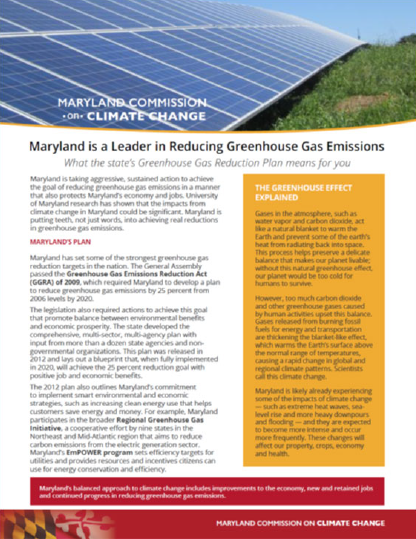 The Maryland Greenhouse Gas Emissions Reduction Act of 2009 required the State to reduce GHG emissions 25 percent from a 2006 baseline by 2020. As such, Maryland has several plans oriented explicitly towards GHG reduction on both a state and transportation-specific level. The State's Greenhouse Gas Emissions Reduction Act Plan includes a multisector inventory and forecast and plan for reducing GHG emissions within a multipollutant framework, while the Maryland Climate Action Plan: Maryland Department of Transportation Draft 2012 Implementation Plan focuses on the transportation sector. The Maryland DOT's (MDOT's) Maryland 2015 Greenhouse Gas Reduction Act Plan updated the baseline forecast and identified specific actions being implemented or planned for implementation through 2020 and their GHG reduction benefits. Charting the Path Forward: A Transportation Strategy for Meeting Long-term Air Quality and Greenhouse Gas Emissions Goals and Enhancing Maryland's Economy and Quality of Life is a joint strategy document of MDOT and the Maryland Department of the Environment (MDE). (MDOT and MDE, 2016)
MDOT is a member of the Maryland Commission on Climate Change (MCCC), which was established in 2007 to develop an action plan and firm timetable for mitigation of and adaptation to the likely consequences and impacts of climate change in Maryland. Among other tasks, the MCCC's Education, Communication & Outreach Working Group works to develop effective communications strategies and best practices for education, communication, and outreach to diverse stakeholders. MCCC has developed several Fact Sheets regarding Maryland's efforts to combat climate change.
Maryland's Greenhouse Gas Emissions Reduction Act requires the MDE to prepare and publish an updated inventory of statewide GHG emissions for a 3-year cycle. The inventory tracks emissions by various metrics across sectors, including transportation, and can be downloaded by members of the public.
8.5.3 External Communications with the Public
For external communications with the public, a communications plan could include
A listing of involved parties that should be informed and consulted as information is developed for the public on the progress of GHG reduction efforts from the transportation sector. This could include elected officials; trade, manufacturing, and transportation associations; NGOs; community and environmental groups; academia; and the general public.
A determination of the type, frequency, and attendees of meetings with the parties previously listed. These meetings could include parties from across the State or according to State DOT regions/districts.
A determination of the extent to which ongoing practices for public information dissemination within the State DOT can be used. For example, State DOTs typically have practices for hearings on statewide transportation plans, statewide transportation improvement program (TIP) hearings, and National Environmental Policy Act (NEPA)-compliant hearings for major transportation projects. The formats for these types of meetings could be adapted for similar meetings on GHG reduction efforts from the transportation sector.
A generic agenda for each type of audience that would be invited to attend GHG reduction effort briefings.
A schedule of progress reports detailing accomplishments to date along with future plans.
For external communications with the public, the Public Information Office or Communications Office should be heavily involved and might take the lead. Knowledge about dealing with outside entities and the public is very beneficial for a communications effort. It is important to avoid misunderstandings and poor planning and presentations. Plans for external communications with the public may benefit from review by the Governor's Office and/or agency partners. To be fully informed, the Public Information Office/Communications Office should also be aware of developments and progress in the internal communications effort and in external communications with other agencies.
Communicating on GHG Activities: Lessons Learned in Practice
In interviews conducted with State DOTs in 2018, all the respondents with active and ongoing GHG reduction efforts (Engagement Levels 3 and 4) described the value of communications with external partners and within the agency. Some of the relevant lessons learned from staff interviewed were the following:
It's important to lay out the GHG process and share within the DOT before things get too far along.
Let everyone know what other offices are doing.
Pull in stakeholders early in the process.
Communication also is important to build buy-in from the public.
Reach out and set up meetings to make life easier for others.
Data sharing is imperative. The DOT can support other agencies and provide information back and forth.
8.6 Self-Assessment: Communications
A self-assessment worksheet is provided to assist State DOT staff in determining where their agency falls on the GHG engagement spectrum for communications regarding GHG issues and what additional actions their division or unit may wish to take to better communicate internally and externally regarding GHG emission reduction efforts.
Click to download – Self-Assessment: 8.0 Communications