1.0 Purpose of the Guide and How to Use It
1.1 Purpose of the Guide
This guide presents methods for State departments of transportation (DOTs) to reduce greenhouse gas (GHG) emissions from the transportation sector. The purpose of this guide is to
Identify and describe tools, methods, and data sources that State DOTs can use to assess GHG emissions, evaluate GHG reduction opportunities, and develop action plans based on current and desired engagement levels.
Provide self-assessment rubrics to help State DOTs understand how they can address GHGs through all stages of their activities across a range of functional units, including policy, planning and programming, design, environmental review, construction, maintenance, and operations.
Help State DOTs effectively partner with other state, regional, and local agencies; communicate with stakeholders and the public; report and respond to Federal or State GHG-related requirements if enacted; support local GHG reduction initiatives; or undertake self-directed actions to reduce GHG emissions.
The guide is intended to support DOTs at all levels of GHG engagement, from agencies with no experience to highly experienced agencies. It may also provide a useful reference for other transportation agencies, such as regional planning agencies, transit agencies, and county or municipal DOTs.
The guide does not duplicate existing materials on transportation GHG strategies and evaluation methods, but rather cross-references more in-depth sources that already are available. It especially adds to the state of practice by addressing institutional issues, considering the entire spectrum of an agency's activities, and updating resources to reflect the current state of practice in GHG strategies and tools.
State DOTs are organized in different ways and their responsibilities vary. Some have purview over all modes while many are primarily highway oriented. This guide is geared mainly toward the highway system (including associated bicycle, pedestrian, and transit infrastructure). However, many of the methods, tools, and resources cited are inherently multimodal and may be applied to rail and, in some cases, even air travel. Other resources also are available for GHG reduction in transit, rail, ports, and air transportation, such as U.S. Environmental Protection Agency (EPA) (2016b) for ports. For airports, references include ACRP Report 11 (2009), ACRP Report 56 (2011), ACRP Synthesis 100 (2019), and Aviation Emissions, Impacts & Mitigation: A Primer (FAA, 2015).
1.2 Organization of the Guide
The guide includes 19 sections, four appendices, and a list of direct links to self-assessments, which are grouped under five general areas—Background, Framework, Functional Areas, Implementation, and Resources. Users can navigate to these areas via tabs at the top of the webresource screen. The sections under the "Background" tab include an overview of GHG and climate change issues (Section 2.0) and a discussion of scenario planning for an uncertain future (Section 3.0).
Sections under the "Framework" tab discuss issues that cut across all of a transportation agency's functional areas and prepare the agency for success. Section 4.0 provides an overview of this framework. The remaining sections address developing a policy (Section 5.0), institutional alignment (Section 6.0), partnerships (Section 7.0), and communications (Section 8.0).
Sections under the "Functional Areas" tab (Sections 9.0 – 17.0) include separate sections for each functional area of the agency, from Central Administration to Systems Planning through Operations and Maintenance, concluding with Regions/Districts. Each of these sections discusses the role or interests of that functional area in estimating and reducing GHGs; linkages with existing activities and processes; and tools and resources available. Each section concludes with a self-assessment that the functional unit(s) can use to identify their contributions to an integrated agency effort and create an action plan. Each of the functional unit sections has been drafted to allow the individual units to access the information they need without recourse to the entire guide. That said, a quick review of the entire site may help even the most specialized practitioners appreciate the larger context of their work.
Sections under the "Implementation" tab address cross-cutting topics that help tie everything together across the functional areas. Section 18.0 discusses performance monitoring, evaluating, and reporting and how information from these activities can feed back into decision-making. Section 19.0, Putting It All Together, provides an illustrative integrated approach.
Sections under the "Resources" tab provide additional resources, including an annotated bibliography (Appendix A), a library of GHG evaluation tools (Appendix B), a detailed example of a bridge replacement (Appendix C), and resources for implementing zero-emission vehicles (Appendix D). A complete set of direct links to the self-assessments is also provided (Self-Assessments). Full reference information for sources cited throughout the guide can be found in Table A.1, provided in Appendix A.
1.3 How to Use the Guide
Figure 1.1 shows how users with different needs may want to start using this guide.
Figure 1.1 How to Use This Guide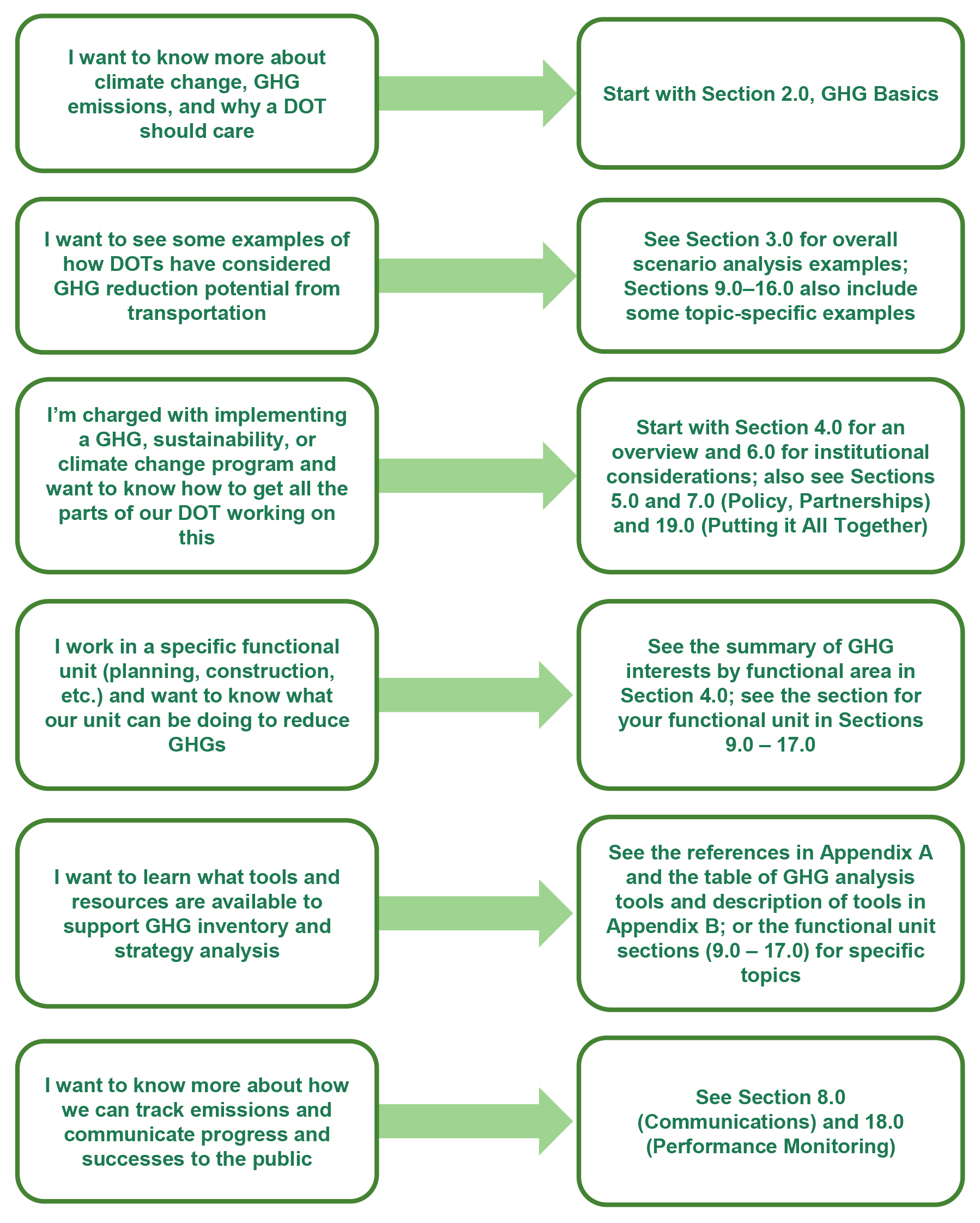 The guide applies a "levels of engagement" model to help State DOTs assess where they are with respect to GHG engagement and where they want to go. Four levels are established, ranging from new to the topic to a comprehensive multiagency effort. Self-assessment worksheets provided in each section can help an agency or functional unit assess its current level and what actions it might take to move towards a desired level of engagement. The worksheets can be downloaded as stand-alone, editable documents from each section or from "Self-Assessments" under the "Resources" tab.
1.4 Final Report for NCHRP Project 25-56
A separate final report for NCHRP Project 25-56, published as NCHRP Web-Only Document 308, documents the process by which the guide was developed and the research findings supporting the guide. The report includes
An overview of the research process.
A summary of outreach to State DOTs, including a survey to which 41 agencies responded, findings from interviews with a select set of State DOT staff, and summaries of existing documents addressing GHG estimation and reduction.
The process, findings, and lessons learned from conducting outreach to develop, test, and implement the guide. This includes findings from workshops held with three State DOTs (Minnesota, Texas, and Washington State) and their partners to review early draft guide material, as well as findings from workshops and technical support conducted with four State DOTs (Colorado, Delaware, Hawaii, and Nevada) and their partners to "test-drive" a complete draft of the guide.