Following this search engine optimization (SEO) guide will help your website gain better search engine visibility, help your content rank higher and align your content with search engine best practices,.
The #1 organic search result is the web page that (according to Google) offers the very best result for the search query entered. This is known as the Topical Authority – the best source of information on and around the search queries – and often includes relevant links, semantic information, photos, etc. (Now you know why Wikipedia is often the #1 result.)
Focus on the Searcher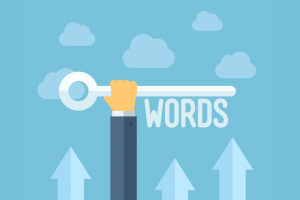 While Google does an amazing job of figuring out what our web pages are about, it's not perfect. Google ultimately depends on the words written on your page – it actually measures how people interact with the page to determine its value (ranking).
When creating content, it's important to take control of where your web pages show up by trying to position yourself in the right searches. Start by researching what words people are searching to find the products and services your business is offering. These are known as keywords. 
"If it's not written on your page, you probably won't rank for it" is a motto we use to help focus on content.
Web Page Content Basics
Google still uses the words on the page in order to effectively rank it. It can't interpret charts, video, or pictures to improve rankings. Take the guess work away from search engines by using keywords effectively. When writing pages, use enough content to tell the full story. We recommend 250-300 words per page at a minimum, but bear in mind, your chances of getting good Google ranking are less than those pages with more content.
It is extremely important to keep your web pages focused on one specific topic to better target your searchers. If you have three unique topics, don't develop one page around those three topics, it would be better to develop 3 separate pages for each topic.
Analyzing Keywords
As an example, pretend for a minute you want to sell reading glasses online. Here is how people are currently searching for "glasses" – including some search terms related to "glasses":
Keyword
Search Term entered in Google
Search Volume
(Per Month)
Keyword Difficulty Index

(100 = Difficult)

Competition (1.00 = difficult)
Number of Results
glasses
135000
80.69
0.92
188,000,000
ray ban glasses
60500
85.56
1
19,600,000
reading glasses
49500
76.84
1
5,010,000
google glasses
40500
89.8
0.82
38,700,000
safety glasses
33100
72.88
1
8,620,000
wine glasses
33100
84.19
1
8,590,000
Trying to rank for "glasses" means you will compete with glassware and eyewear manufacturers. As you can see from the table, targeting the right search is extremely important. This is where long tail keywords will help narrow your focus – and attract better searchers… your new customers.
Keyword Planner Tools
Use these great free tools to identify which long tail keywords you'd like to use on your web page:
Google AdWords Keyword Planner Tool
Wordtracker's Free Basic Keyword Demand Tool
Using Keywords for SEO
Use the keywords in content, first and foremost, but it's also important to know which web page elements search engines give special attention to. They are: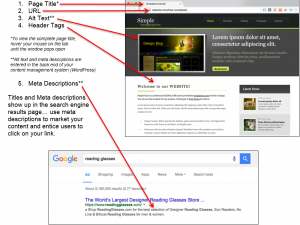 Key Points to Remember
Become the 'Topical Authority' – Rank #1 by creating the page with the most value related to the search (content, images, links, etc.)
Google measures how users interact with your pages – keep them on the page longer with more content for better rankings
Do not try to cram 2 separate products or topics onto one page – create 2 pages instead
250-300 words per page – minimum
Use keywords in content, titles, headers, URLs, meta descriptions and image alt tags
Give images descriptions and alt text using keywords
Getting links from quality websites is guaranteed to boost your rankings – share your content!
Use WordPress's Yoast SEO plugin – helps focus on key SEO issues using a scoring system
Further Reading
There are many online resources that offer further explanations of the information contained in this document. We encourage you to read more about any aspect of SEO that interests you. Here are a few articles and links to get you started…
https://moz.com/beginners-guide-to-seo/keyword-research
https://moz.com/learn/seo/on-page-factors
https://northcutt.com/wr/google-ranking-factors/